The concept of this chalet results from the rugged topography of its site, a sloping terrain on which the project is anchored in the bedrock, revealing an angular and monolithic architecture.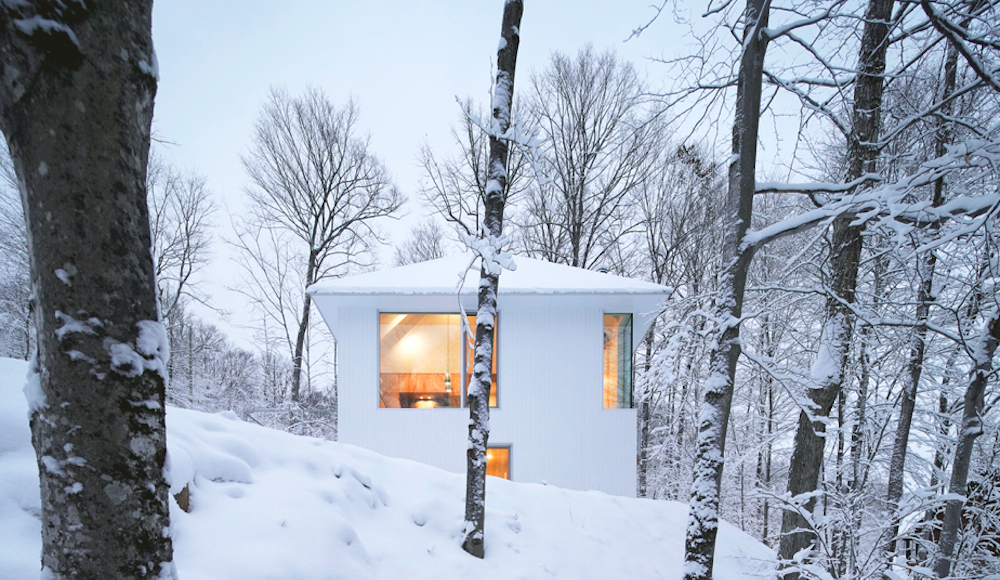 Its shape and its most minimalist expression allows for optimal compactness and a reduced footprint on its site. Its square plan is topped by a symmetrical gabled roof that reinforces its geometric appearance.
Inside, the space reveals a height under exposed joists that gives a sense of verticality to this contained space. Visible from the living spaces, the criss-crossing structure of the roof echoes the name of the lake by recalling the skeleton of a fish, as does its immaculate colour.
The modest budget leads to the optimization of the chalet's spaces: reduction of circulation areas, creation of compact spaces, grouping of services and framing of views towards the landscape. It also aims to compose with a palette of simple and affordable materials. For example, maple veneer panels make up the integrated storage units.
The result is an unusual, simple and monochrome architecture exploring the purity of the square.
Click here for further information
Report by naturehumaine.com
---