Flavien and Vanessa Marçais are both steeped in motorsport. Brought up around fine motor cars in families rooted in racing on either side of the English Channel, the duo bring huge experience and passion to the challenging and often difficult roles of organising and running events.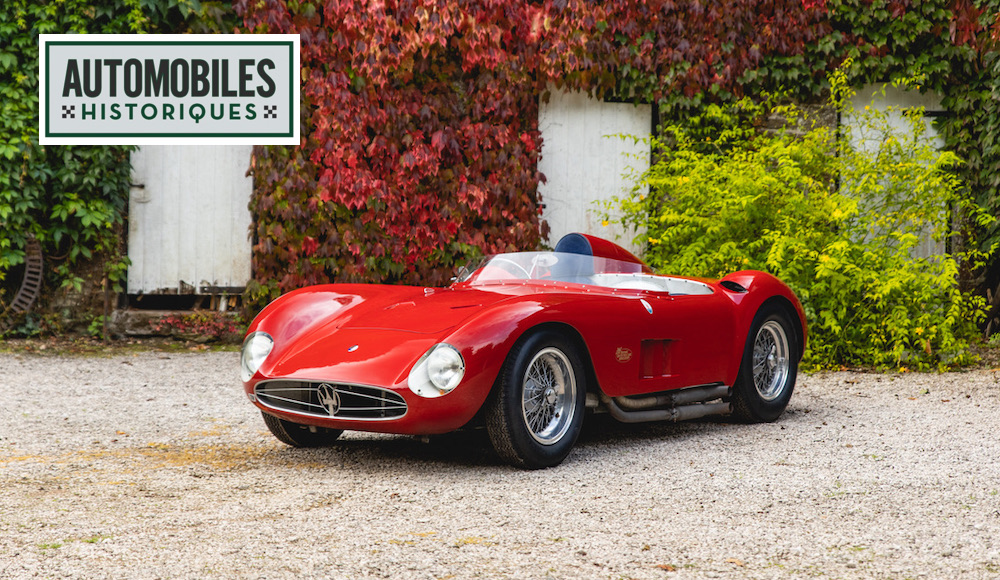 Automobiles Historiques: Expect the Extraordinary

Client confidentiality, utmost discretion, specialist expertise, personal attention and ultimately trust are the proud professional hallmarks of Automobiles Historiques Limited. For 20 years principals Flavien and Vanessa Marçais have sourced, researched, bought and sold a plethora of the world's finest cars.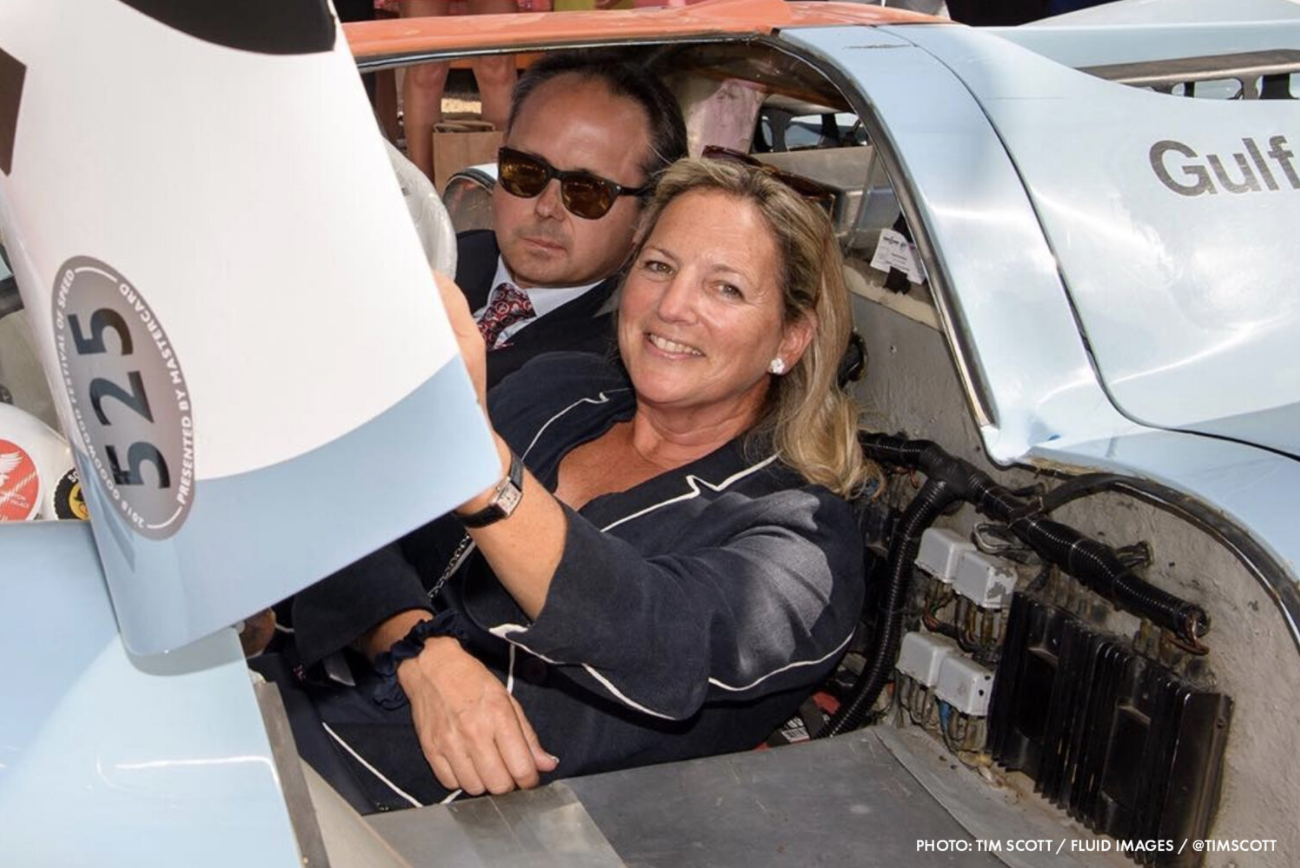 The Anglo-French husband-and-wife team behind the growing business were both brought up in respected motoring families. Passion for motoring is in their blood. Embroiled in collecting, restoring and racing cars since childhood, Flavien and Vanessa can also draw upon a network of discreet contacts globally.
Successfully marketing extraordinary classic and competition cars demands an extremely high level of specialist knowledge. A specialist writer and historian, Flavien's encyclopaedic memory for detail is underpinned by an exceptional automotive library and world-class photographic archive, uniquely in-house.
This notably includes the collection of Flavien's Late grandfather Serge Pozzoli, Christian Moity's library and Ferret Fotographics, the motorsport image library built up over decades by Ted Walker, which comprises over 7-million original images and was added to the collection in 2017.
Wife Vanessa is British, daughter of leading Jaguar restorer and specialist Aubrey Finburgh. She, too, has raced Historic sportscars. Having carved out her career in the historic motoring world from a young age, working with some of the best in the industry, Vanessa founded Automobiles Historiques Limited – parent company of the "GT & Sports Car Cup" race series – with husband Flavien some 20 years ago.
The majority of cars Automobiles Historiques deal with are not advertised, but matched by Private Treaty to individual requirements. If you are minded to acquire a very special car, or find a new custodian for one you have cherished, Automobiles Historiques Limited's track record is exemplary. Please do not hesitate to contact them! Find out more here.
---
Current Inventory
---
2007 Ferrari F430 GT3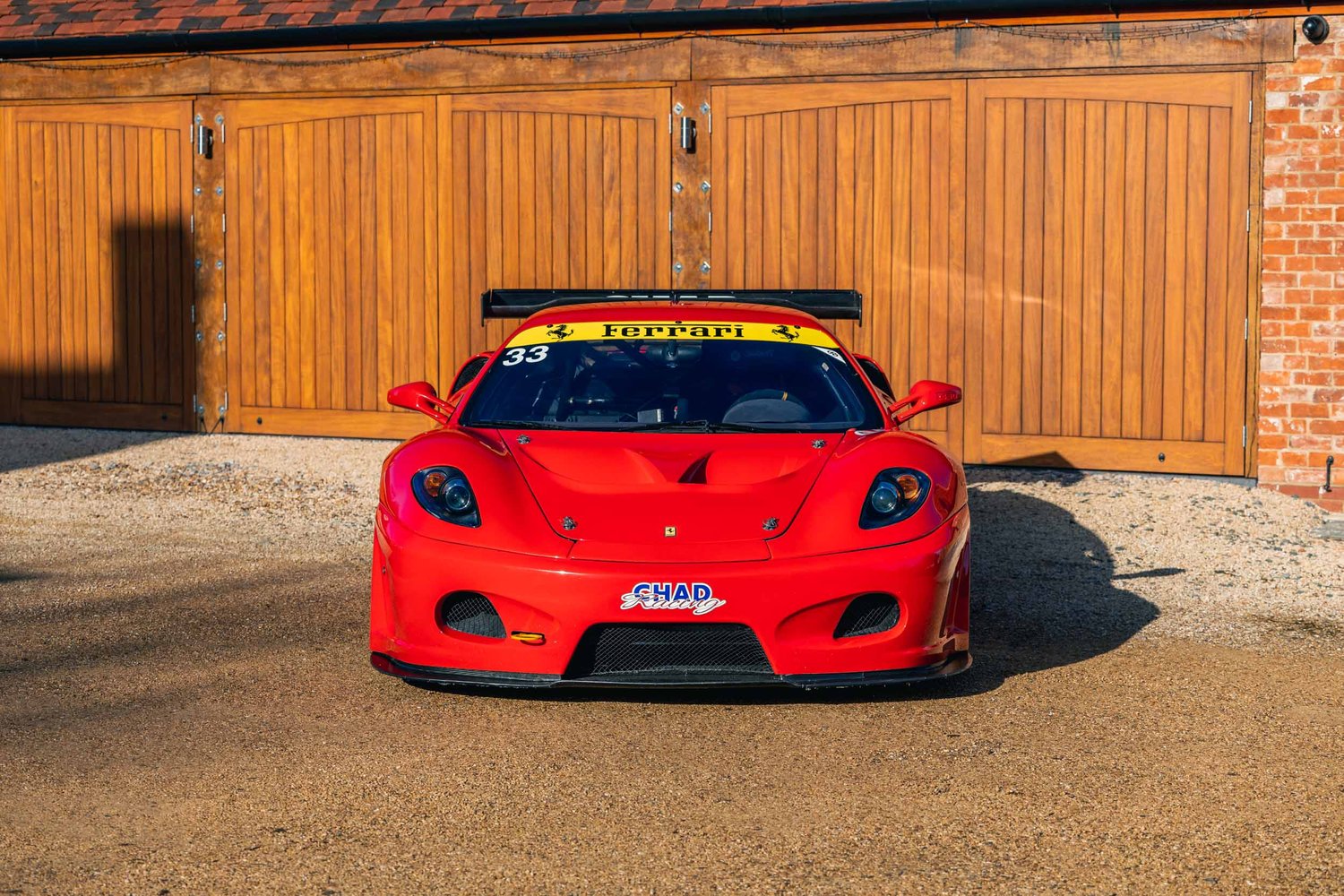 1950 Frazer Nash Le Mans Replica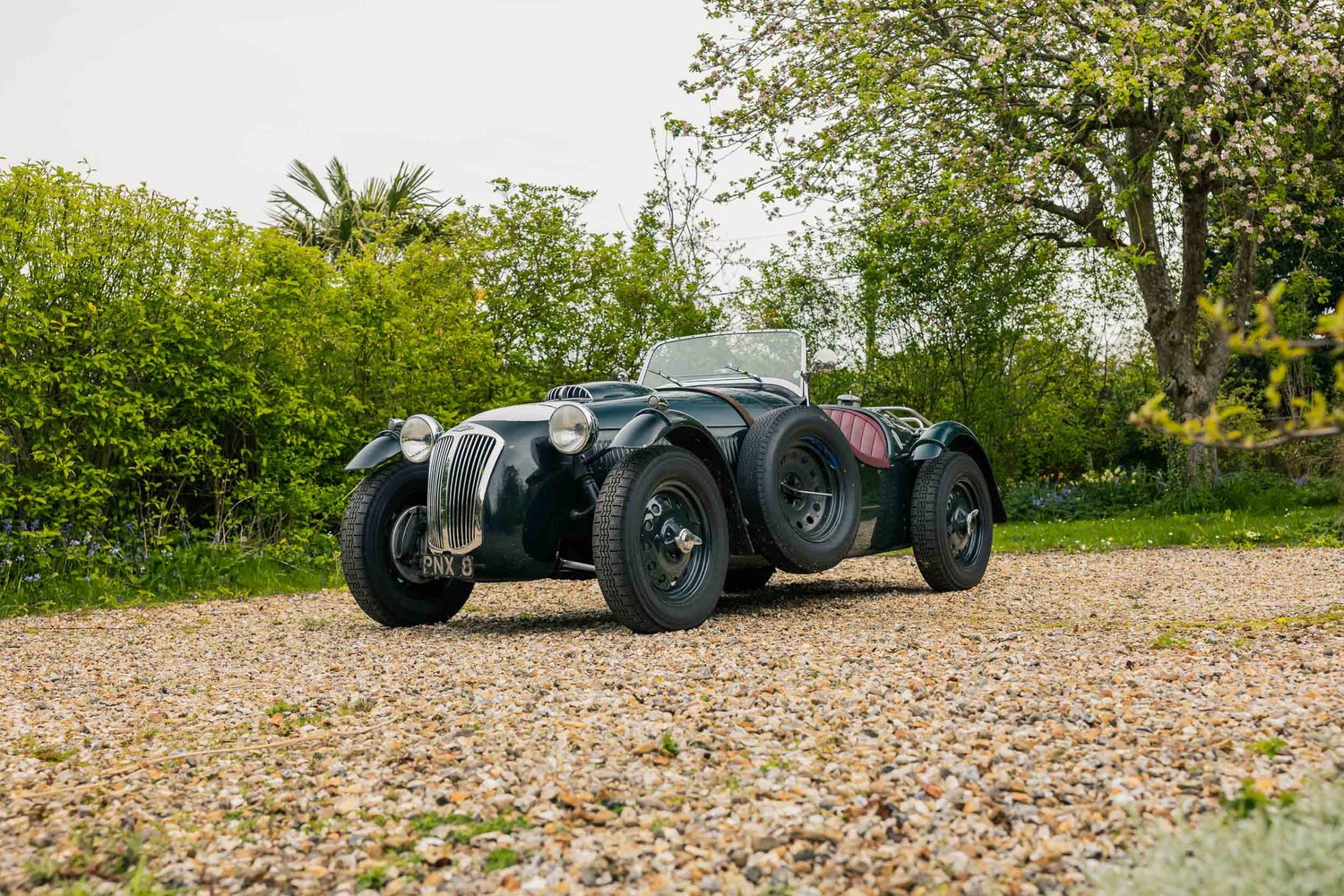 Frazer Nash boss HJ 'Aldy' Aldington and Norman Culpan's remarkable third place in the 1949 Le Mans 24 Hours driving a prototype High Speed model was the zenith of the fabled British marque's competition history. Beaten only by an exotic V12 Ferrari 166 MM and a big Delage, the success spawned a production run of [renamed] Le Mans Replicas at AFN Limited's Falcon Works in Isleworth. Evolved from BMW's pre-war 1971cc six-cylinder OHV power units, built to FN specification by the Bristol Aeroplane Company, the triple Solex-carburetted engines endowed the charismatic cycle-winged cars with pep to match their sharp handling.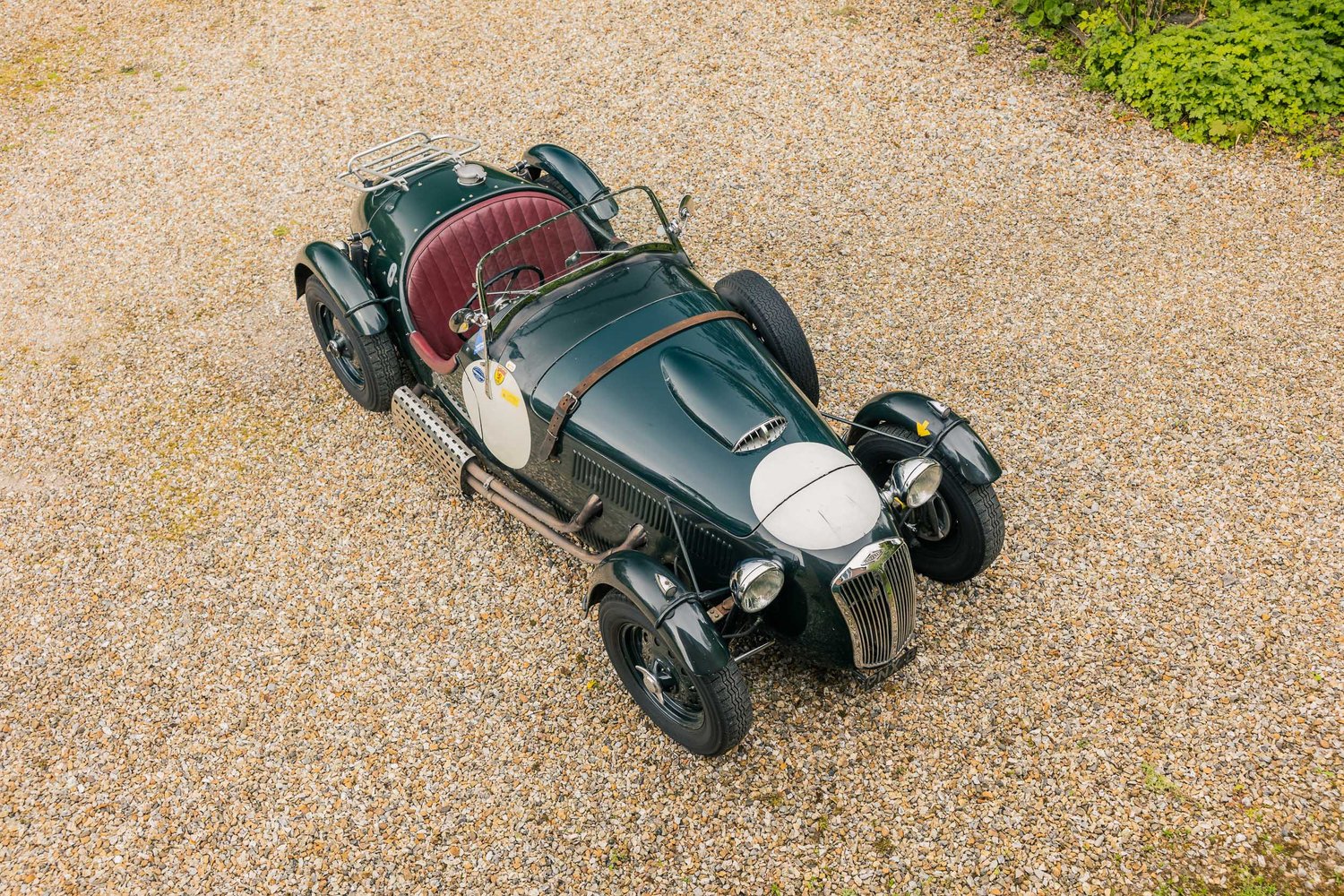 Frazer Nash's silver 1950 Earls Court [London] Show car, this example was supplied to Swedish Bristol agent Hans Ostermann. Second owner Sam Gillberg raced it on circuits – and ice! – eighth in the '53 Caen GP sportscar event his highlight.
Acquired in '59 by Peter Lindkvist, who repainted it green, this well-documented car was repatriated from Sweden to England in '86 by Frank Sytner, who took it on the Mille Miglia retrospective. Cherished in one family ownership since '97, this superb Le Mans Rep, a class and overall handicap classification winner on the 1999 Tour de France Automobile, has also competed at the Le Mans Classic and GP de Monaco Historique. Find out more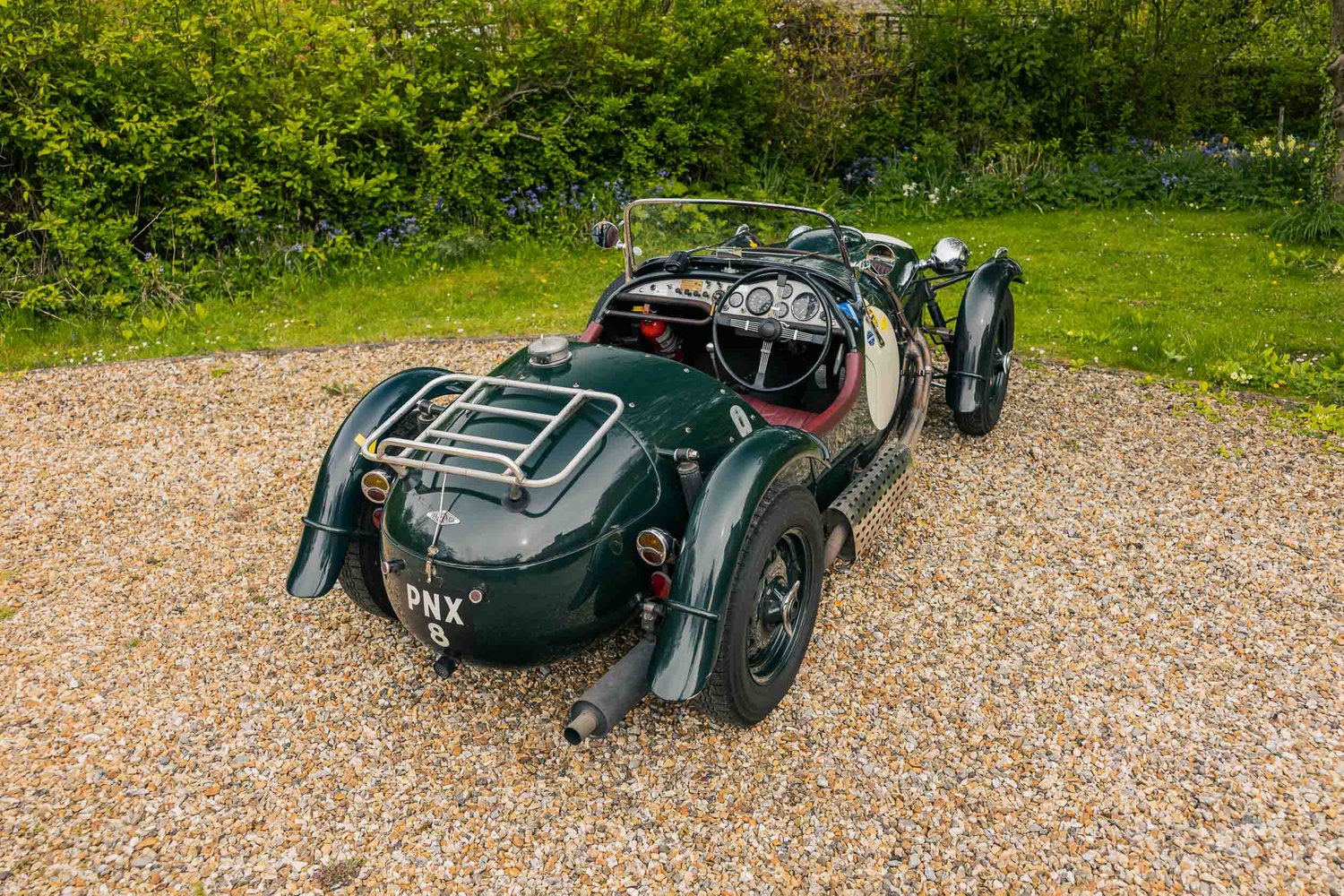 1959 Austin-Healey 3000 Mk1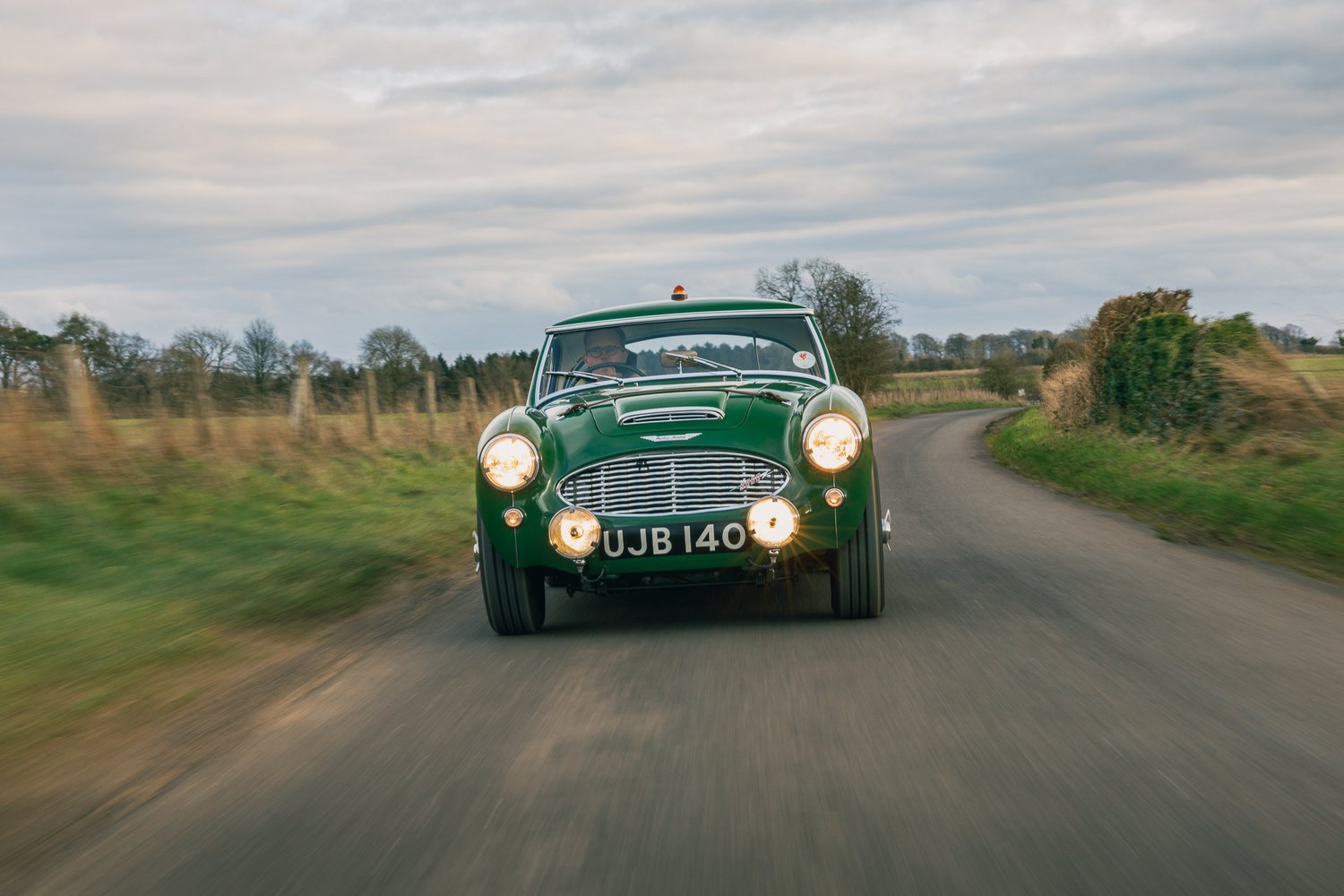 Cross-pollination between the British Motor Corporation's Austin division in Birmingham and the Donald Healey Motor Company of nearby Warwick begat some fabulous Grand Touring cars. Proven in International racing and rallying, works Austin-Healeys are the holy grail. UJB 140 is the first of four built at BMC's Abingdon competition department for the 1960 Sebring 12 Hours race in Florida, used for circuit acclimatisation.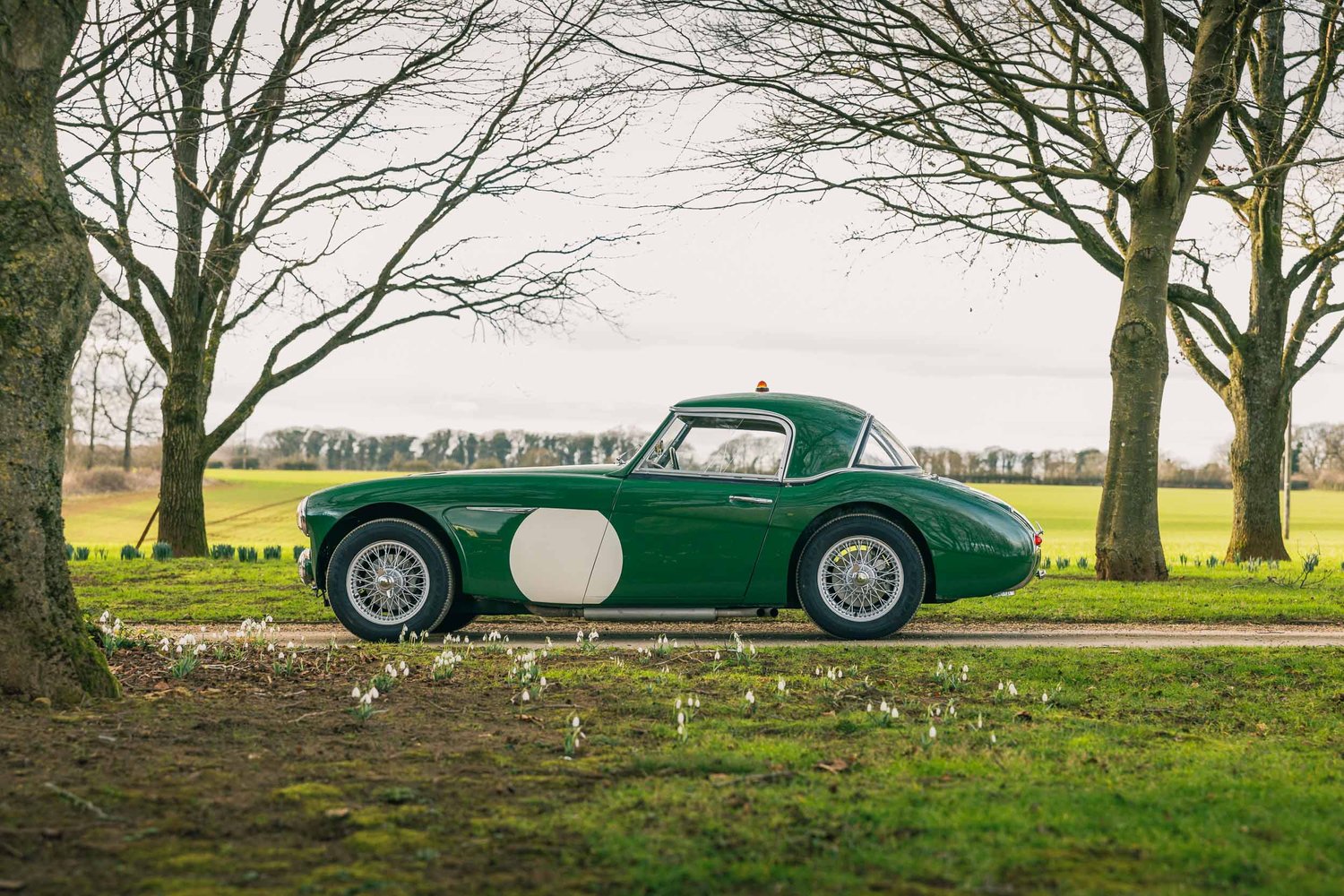 Back in England, Jack Sears drove it at Silverstone to develop Girling's three-pot disc brakes. Sold in August 1960 by New York Austin-Healey importer Ambro Automotive Company to SCCA member Richard Ecklund, it was raced sparingly at future US Grand Prix venue Watkins Glen and Harewood Acres in Canada. Ecklund sold it to his occasional co-driver Bob Deuell in '86 with 20,000 recorded miles! In 2009, Peter Jaye began a superb restoration, returning it to Sebring specification.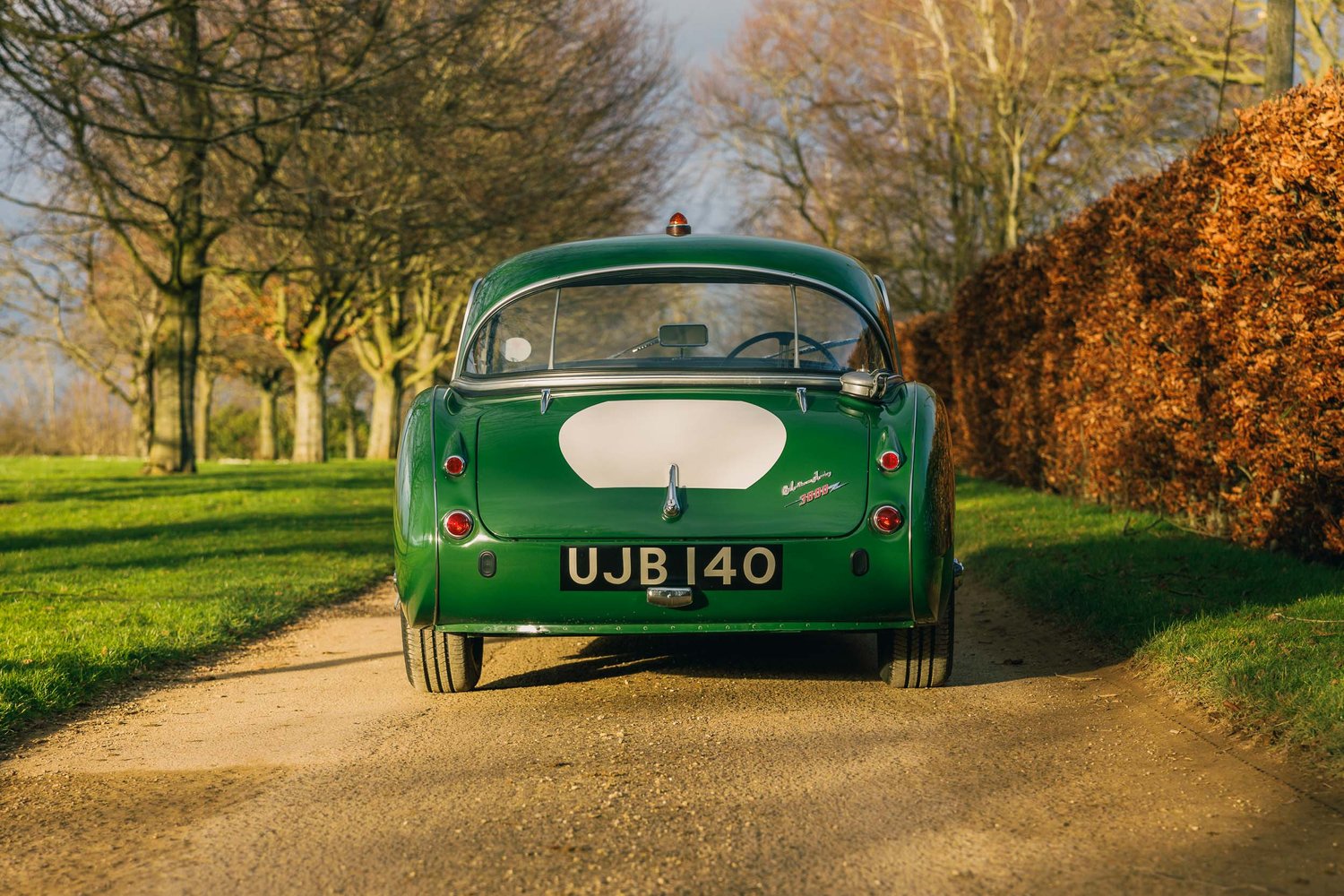 Offered with Ambro's sales invoice, period race programmes, factory heritage certificate and HTP valid until 31/12/2030. Eminently eligible for every prestigious Pre-1963 and Pre-'66 GT racing event on the planet, including the GT & Sports Car Cup, Equipe, Goodwood Revival and Le Mans Classic. This period stunner with impeccable provenance would equally tackle rallies such as the Coupe des Alpes and Modena Cento Ore with relish.
1963 Jaguar E-Type 'Low Drag' Coupé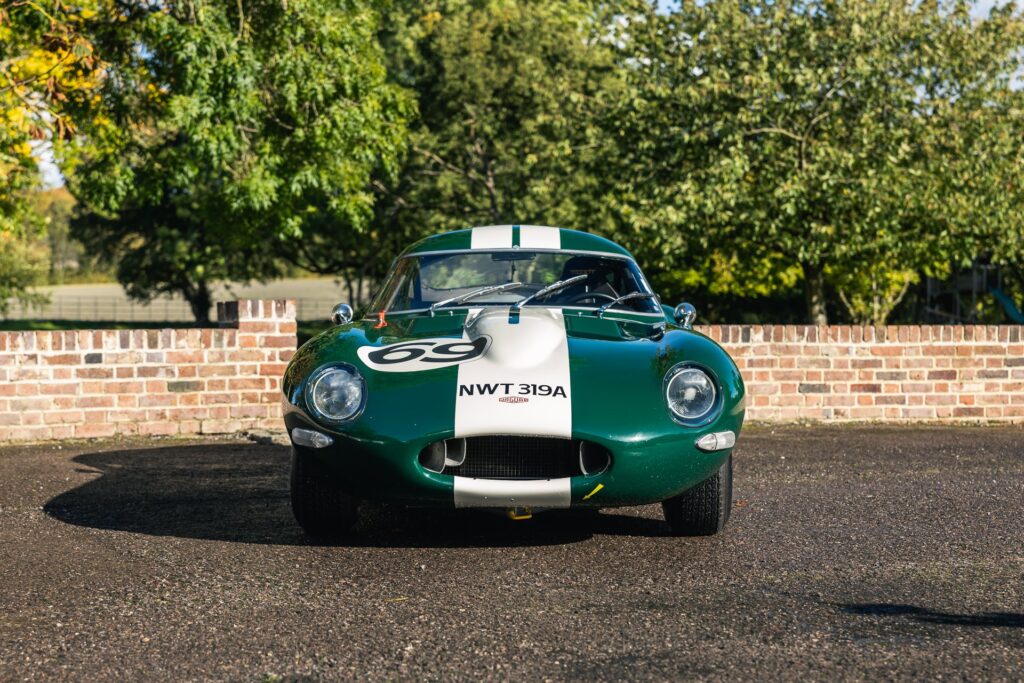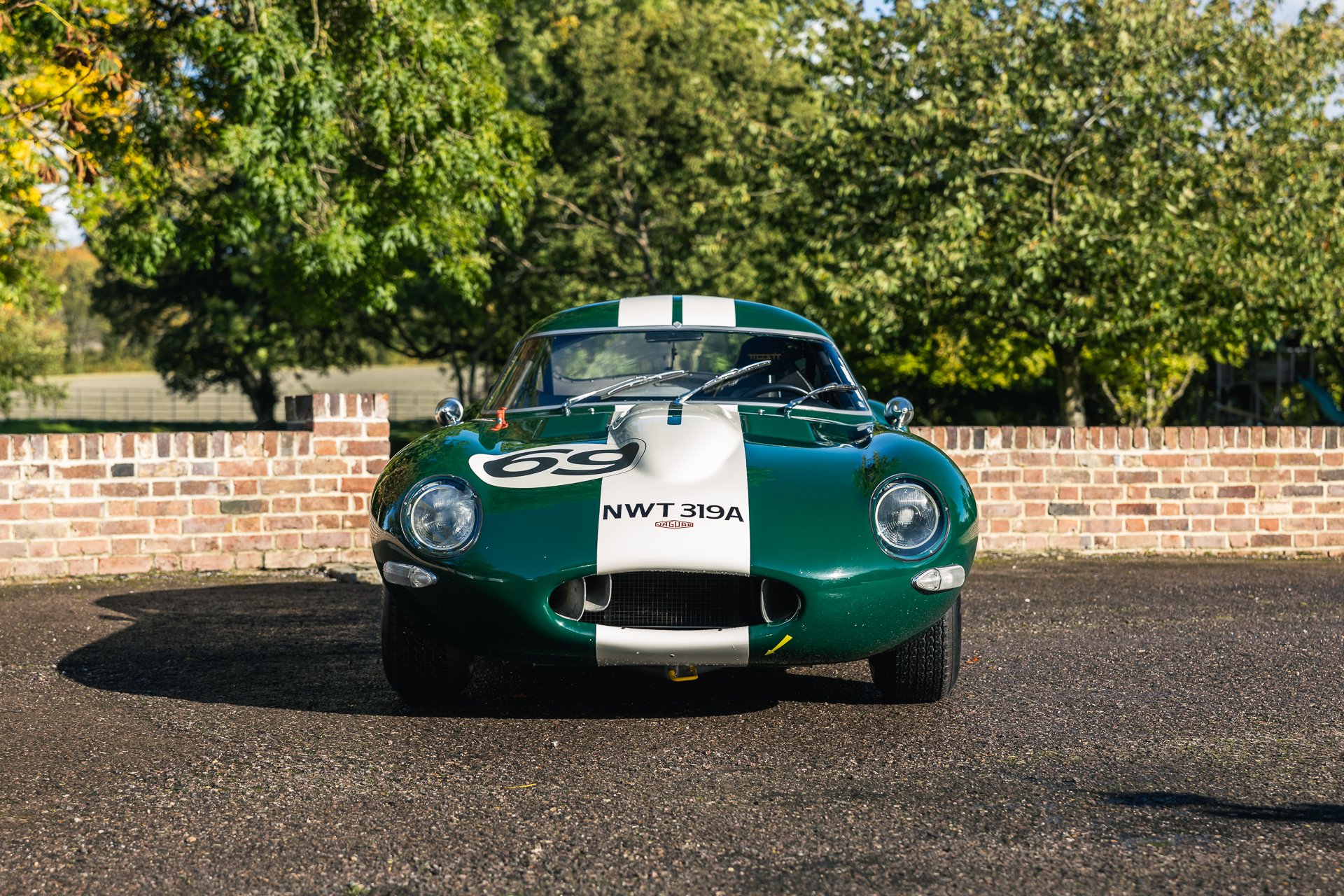 Five-time Le Mans 24 Hours winner Jaguar's E-type may not have matched its C and D-type forbears' achievements at La Sarthe, but its mission was different. From its introduction in 1961 the E-type's drop head gorgeous styling immediately made it the Grand Touring Car everybody desired. A winner on its race debut at Oulton Park, the model enjoyed successes on tracks worldwide, particularly when evolved into the ultimate factory Lightweight versions, which of course are now priceless.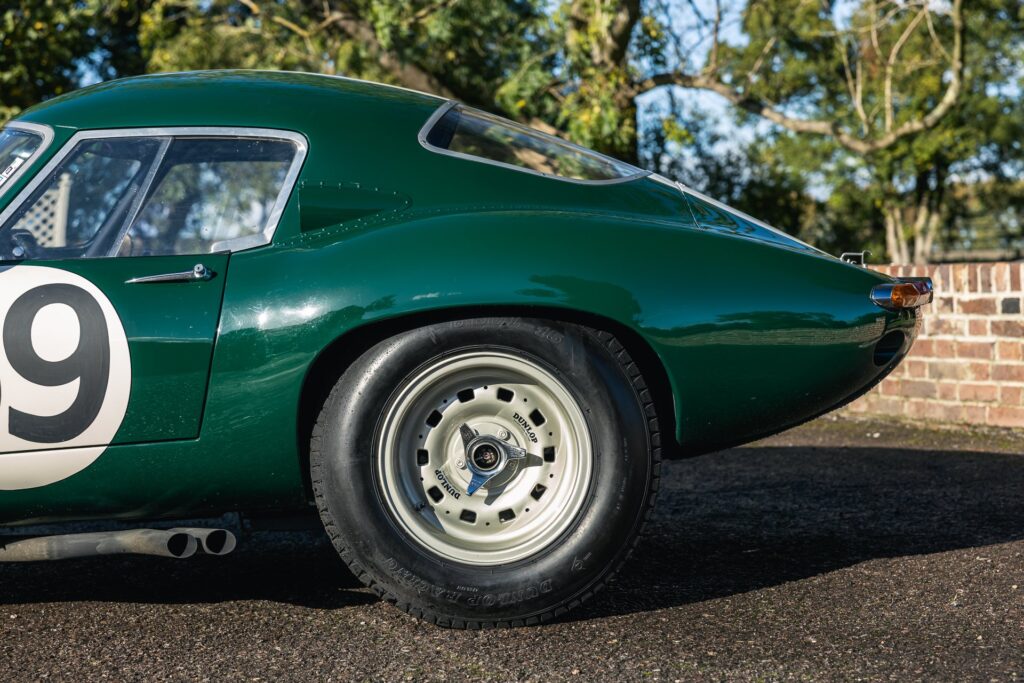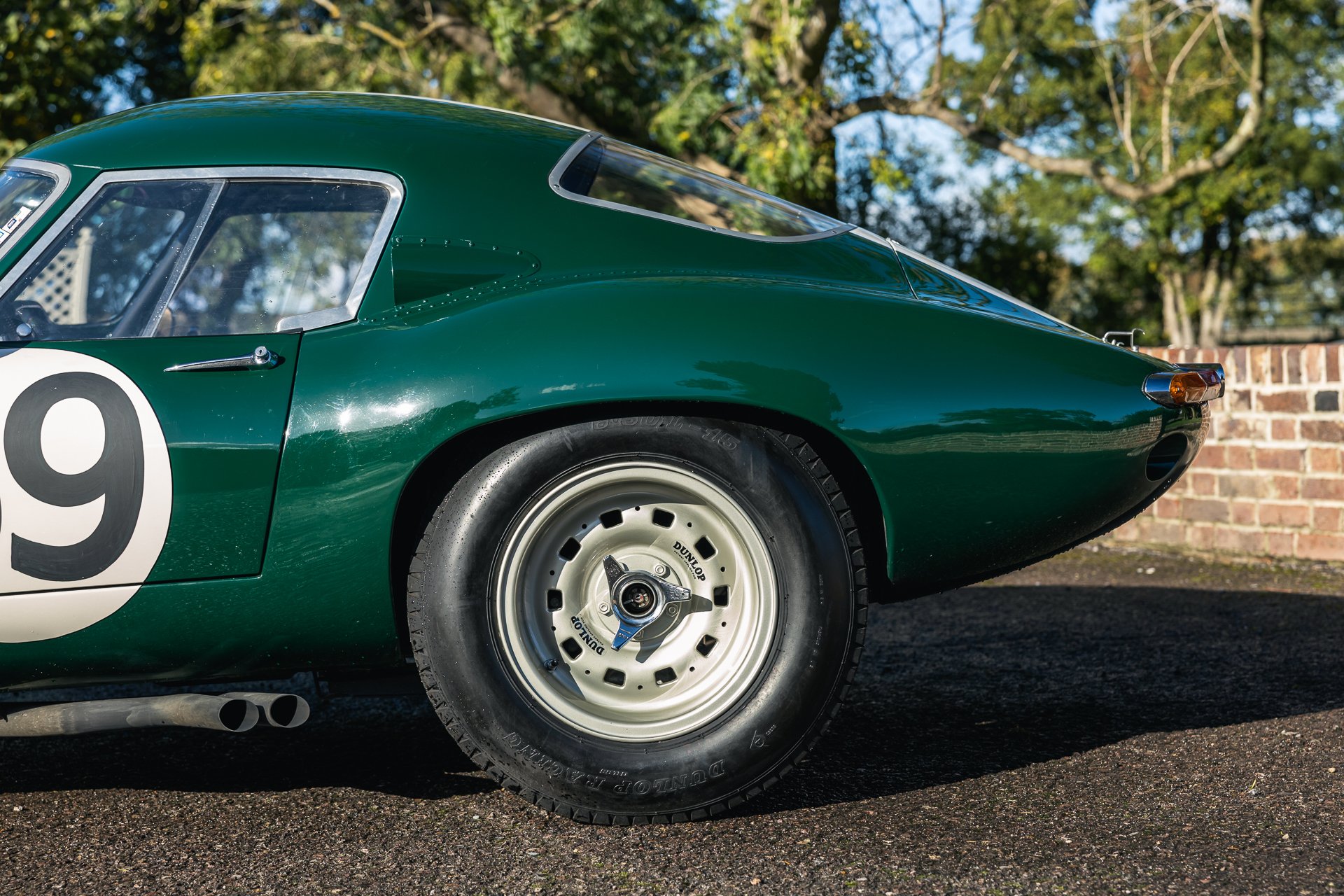 Legendary Jaguar aerodynamicist Malcolm Sayer masterminded arguably the most beautiful E-type derivative – the ultra-sleek Low Drag Coupé – in a wind tunnel, where its figures were even more impressive than the Lightweights.'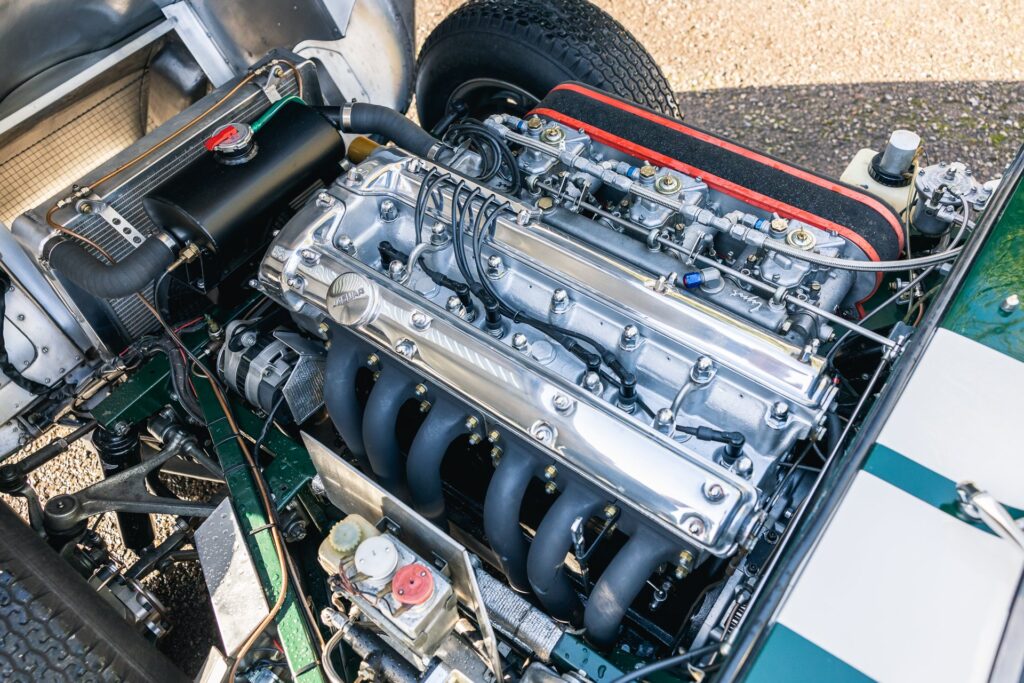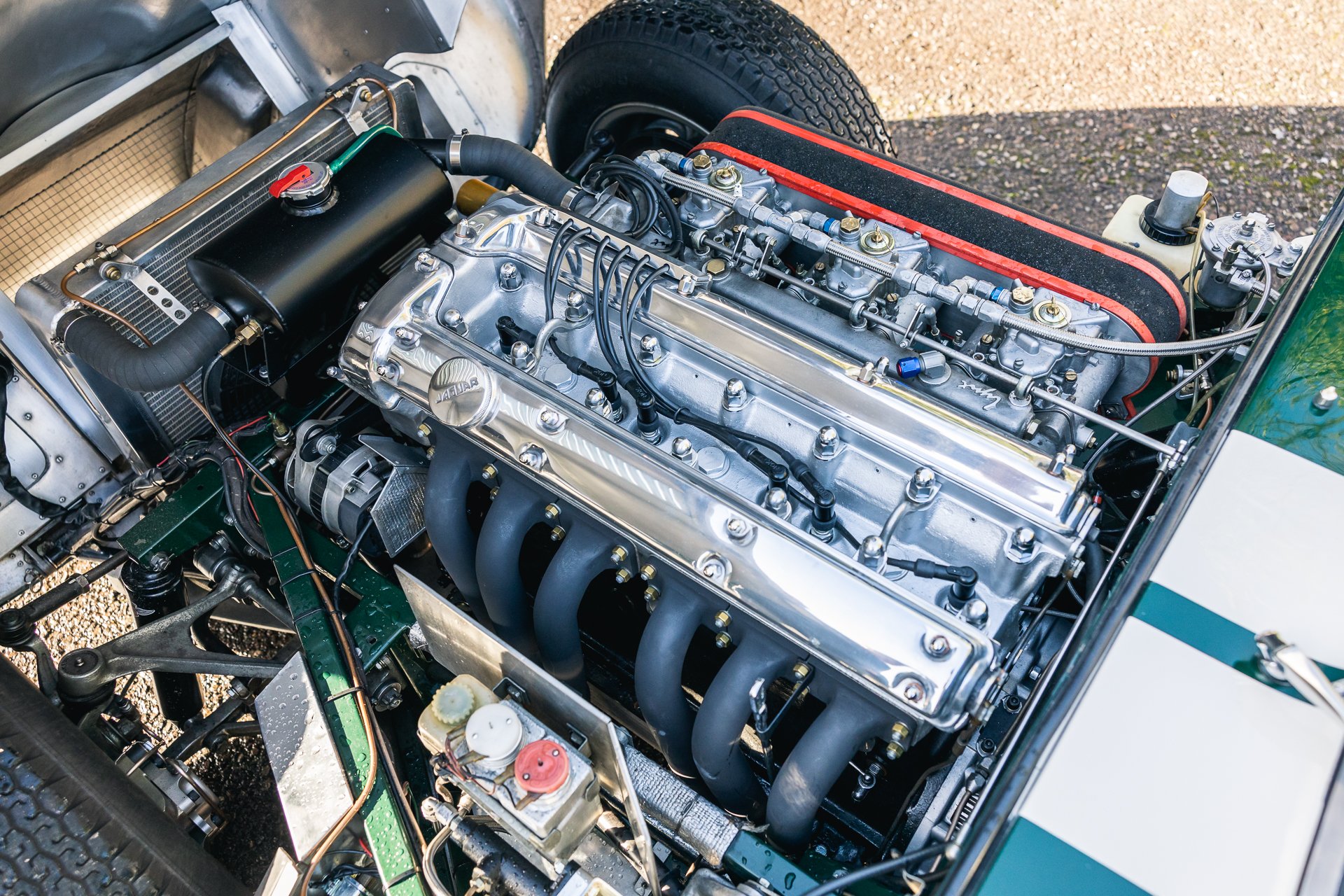 Acquired from the factory and raced by dealer Dick Protheroe in 1963-'64, it finished second overall to a snarling Ferrari sports-prototype on its debut at Reims. EC1001's participation in international races is why the configuration is recognised by the FIA as a period specification.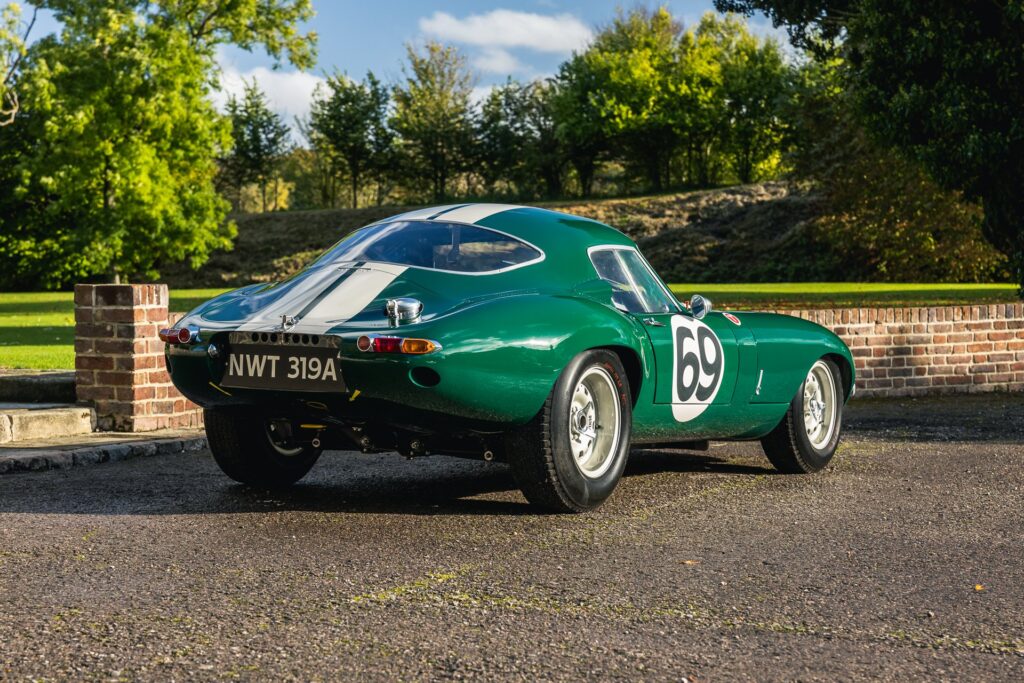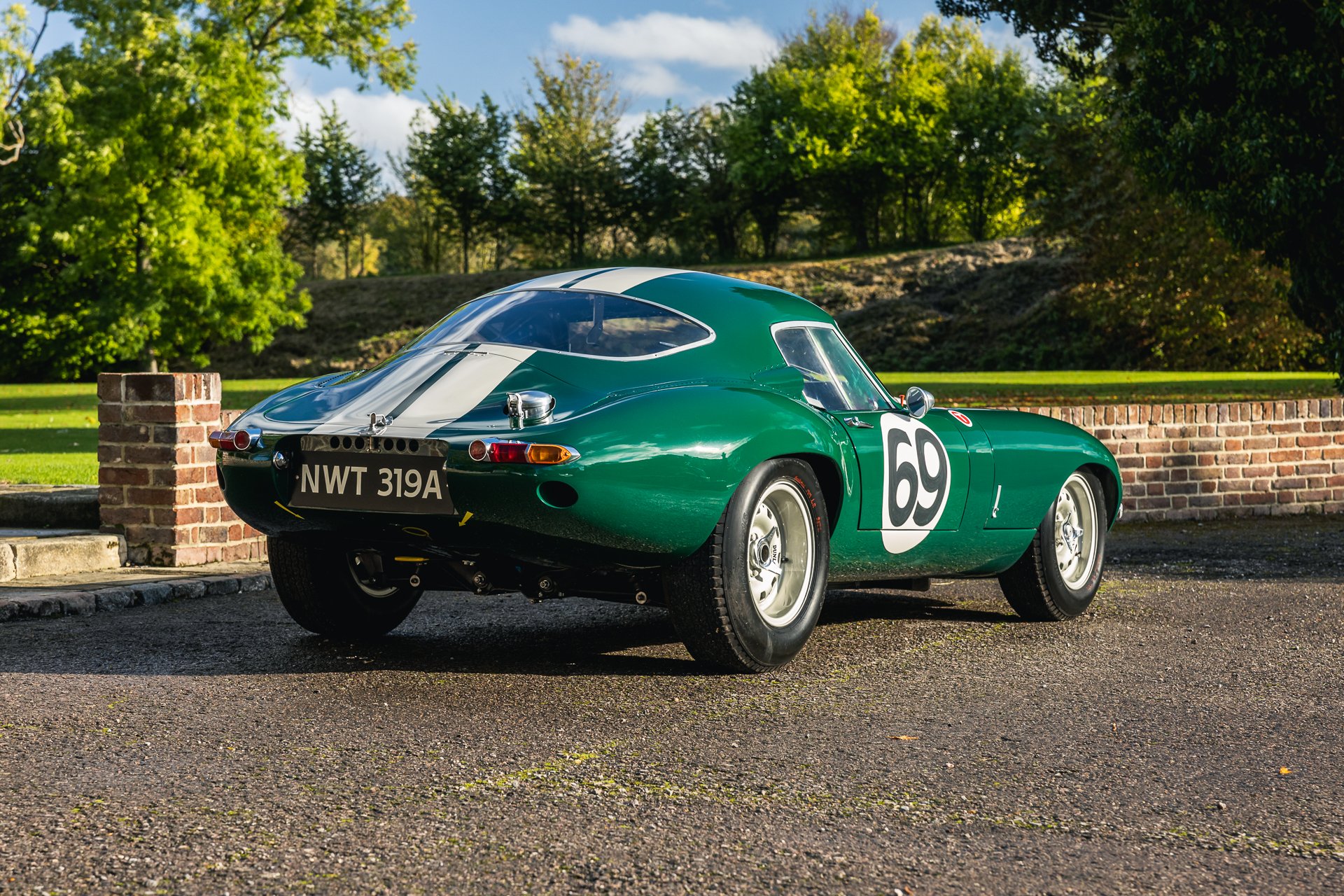 The magnificent car we are proud to offer was built to the Low Drag Coupé's blueprint with no expense spared by Swedish engineer Hans-Erik Johansson in 2004, from a superb US import 1963 FHC, and uses its original engine. Acquired from Johansson by its current owner in 2016, #889326 has been raced once at the Goodwood Members' Meeting, then fastidiously re-prepared and detailed by marque specialist Riedling & Mouser Ltd. Eligible for prestigious Pre-'66 GT racing events, including Goodwood and GT & Sports Car Cup, this svelte stunner is road registered, thus would equally grace the Coupe des Alpes or Modena Cento Ore rallies, and is guaranteed to wow at the most exclusive automotive gatherings worldwide. Learn more
1955 Lotus-Bristol MK X

The third of six built by the Lotus Engineering Company Ltd, combining the genius of marque founder Colin Chapman's lightweight chassis design and Frank Costin's superb aerodynamics.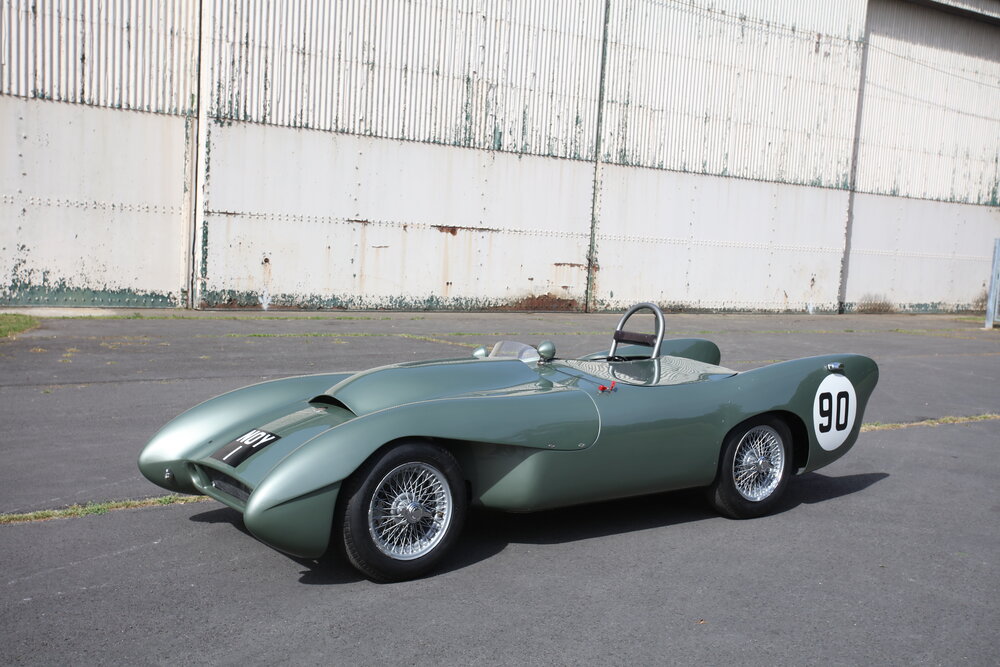 Powered by the favoured 1971cc Bristol six-cylinder engine, the disc-braked beauty was bought by charismatic West London motor trader Cliff Davis and debuted at Brands Hatch on July 9, 1955. Class second in the final Goodwood Nine Hours (Davis/Reg Bicknell). Recommissioned for the 2019 Goodwood Members' Meeting, this full history car – a movie star of the '50s – is eligible for the most prestigious events, including the Goodwood Revival Meeting, GP Historique de Monaco, RAC Woodcote Trophy and GTSCC.
1973 Lola T282 Chassis No. HU6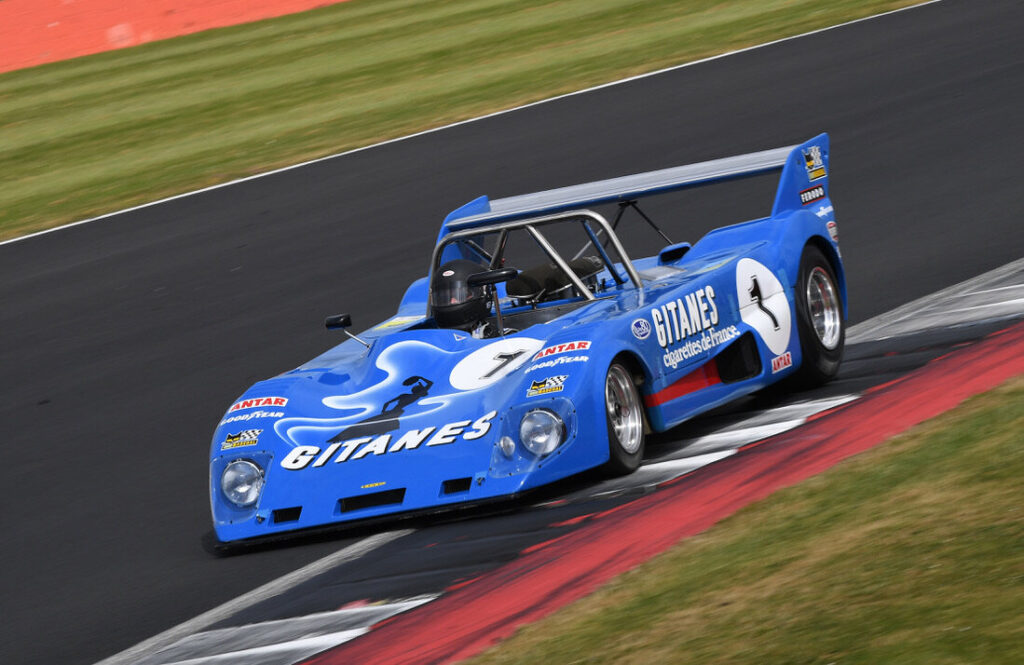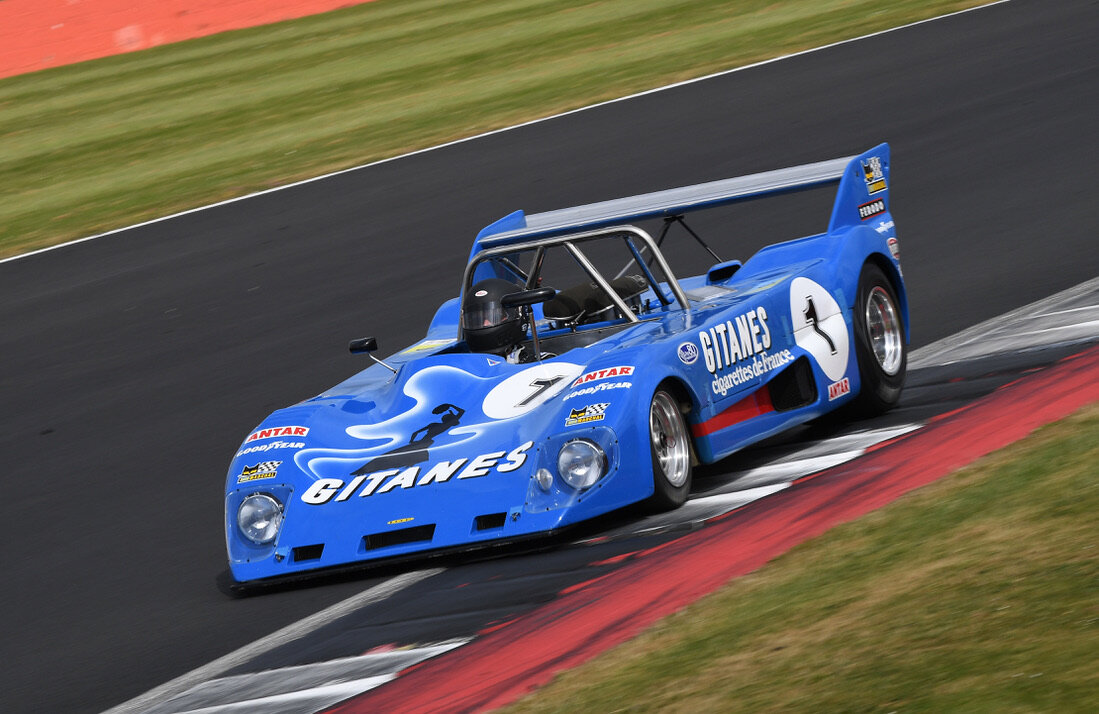 The most rewarding front-running car of its era to drive, the Lola T282 is also the most sustainable with a robust aluminium monocoque chassis and proven Cosworth/Hewland drivetrain. Beautifully prepared with no expense spared and straightforward to run, HU6 has been a regular winner of European events in recent years. A passport to Le Mans Classic, CER, HSR Classic 24 Hour Daytona and HSCC Thundersports events, it is offered with a comprehensive spares inventory. Learn more